The World at your Fingertrips - FREE!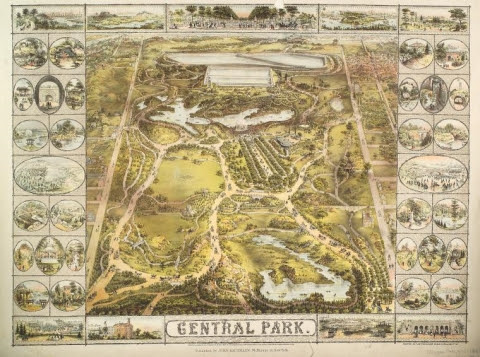 I love maps! And the older the better.
I like looking at how the world has changed, or being reminded of places I've visited.
In my office I have a 1930's map showing the "Voyages of Discovery" with dashed lines and little galleon icons indicating the trips of Columbus, Vaso de Gama, and Magellan, a visual text sparking images of pirates, sea monsters, and exotic ports of call.
In my kitchen I have a very art deco map of "Europe in 1932" with pink and teal countries whose borders are very different than the world today. Whenever company comes and congregates in the kitchen it always sparks a conversation about places we'd love to visit. Rome, Paris, Athens, Florence, London, Alexandria, Constantinople all great cities a world away.
Now some of these antiques are available to everyone thanks to the
New York Public Library
. The library has been scanning maps for about 15 years and now has "1,100 maps of the Mid-Atlantic United States and cities from the 16th to 19th centuries . . . more than 700 topographic maps of the Austro-Hungarian empire created between 1877 and 1914 . . . an incredibly diverse collection of more than 1,000 maps of New York City, its boroughs and neighborhoods, dating from 1660 to 1922" among many other maps.
Do you like to read maps? How has your world changed? Where do you want to go?